Ankle Fractures in a Nutshell
Thursday, 04 October 2018 19:55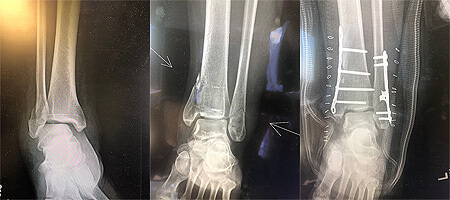 If you have experienced a breaking of any of the bones that make up the ankle joint, which is referred to as an ankle fracture, you may be aware that there can be significant pain as well. The bones that make up the ankle joint are the tibia, fibula, and talus bones. There are many reasons an ankle injury can occur, such as twisting your ankle inwards or outwards, falling, a crush injury, or a motor vehicle accident. An ankle fracture can also occur due to sports injury, repetitive stress, or as a consequence to nerve problems of the feet and legs.
The symptoms of a broken ankle are pain, swelling, bruising, numbness, throbbing, and difficulty putting weight down on the foot. In more severe cases, there may be a deformity, which may represent a dislocation where the foot can actually separate from the ankle. If you have had an ankle injury, it is important that you consult with your podiatric surgeon so you can start the best course of treatment immediately. If you have any concerns regarding you ankle, contact Dr. Lee R. Stein from Lake Shore Foot & Ankle. Our doctor will treat your foot and ankle needs
Ankle fractures are usually diagnosed with a proper history, as well as x-rays. For proper evaluation, it may be necessary for the doctor to order a CT or MRI scan.
A broken ankle can lead to complications and can occasionally cause long standing deformity or severe pain if not treated properly. In certain cases, a splint, cast, or boot may be the preferred treatment, along with rest, ice, and elevation depending on the fracture type. In other cases, surgery may be necessary, which may involve open reduction internal fixation (ORIF) with screws and/or plate hardware or the use of external fixation (frame around skin). At LSFA we use the latest in biologic techniques to achieve efficient healing with amniotic tissue, bone marrow aspirate, bone stimulation, shockwave, and laser.
By Lee R. Stein, DPM, FACFAS, FACLES, FAENS